Meetings & Gatherings
Santa Fe Event Space | Blessed by the Picuris Pueblo
At Hotel Santa Fe, we understand the importance of gatherings. After all, the Picuris Pueblo people have been celebrating them for more than eight centuries. As the only full-service, Native American owned hotel in Santa Fe, we offer you the opportunity to enhance your meeting event with unique cultural experiences, including guided tours of the Picuris Pueblo, storytelling with our resident historian, and performances by Picuris tribal dancers in authentic headdress and ceremonial attire.
Event Spaces And Services
Our sales and event staff looks forward to working with you to plan a memorable and productive meeting or event. In addition to six well-equipped event spaces accommodating up to 275 guests, Hotel Santa Fe offers full A/V and catering services, including imaginative menus featuring regional favorites like Chimayo Chile Tortilla Soup and Slow Roasted Chipotle Rubbed Beef Brisket.
Native American Blessing
Inspiration comes in many forms, but perhaps none is as moving as a traditional Native American blessing. Smell the scent of sage and feel the power of prayer as you give thanks for a successful Santa Fe meeting.
Native American Drumming
True innovators march to the beat of a different drum and there's no better way to celebrate your colleagues' unique qualities than by participating in this powerful and inspiring Native American activity. A great kick-off or closing to your Santa Fe meeting.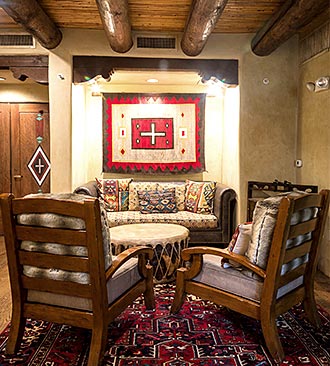 Planning Tools